Network Solutions
Web Design
13861 Sunrise Valley Dr
Herndon, VA 20171
In Yelp terms: when a business calls me without me asking, minus one star.
Sends unsolicited emails me without me asking, minus one star.
Sends unsolicited dead tree mail, minus one star.
So: minus three stars. The fourth star will be removed once I receive a text message from them, or a homing pigeon.
Apparently Network Solutions has one of the most aggressive marketing campaigns ever known in the digital world. I wouldn't blink an eye if someone told me that the same marketing company they use also runs quite a successful a collections agency. I made the supposed mistake of writing my own number and address after I purchased a domain name with them. The problem was unless I wanted to pay an extra $10 to have my domain registered under their PO Box number, having my address and name registered with a domain gives them agency to constantly bombard me with attempts to reach me, until I go through the processes not to.
Once you register a domain from this company, you will receive repeated calls from 855-881-9252 (they don't leave voicemail) and you have to call them back to tell them to remove your number. They will not remove your number until you listen to them for two long minutes offering "free" business services with the domain and then indignantly telling you to how you could pass up on something free, no remove my number.
The next day, the emails come with the same offer. Considering network solutions is quite a high profile digital company, they make it as low tech as possible to unsubscribe to emails. When you click unsubscribe, they make you manually type in the email address even though it is really easy to make unsubscribing automatic with one click. Maybe since they're located in rural Virginia, they hope the clientele will be as literate as the appalachian locals nearby. When I clicked after I typed the email, I received a thank you for unsubscribing.
How can a business thank someone for unsubscribing without sounding menacing about it? See photo: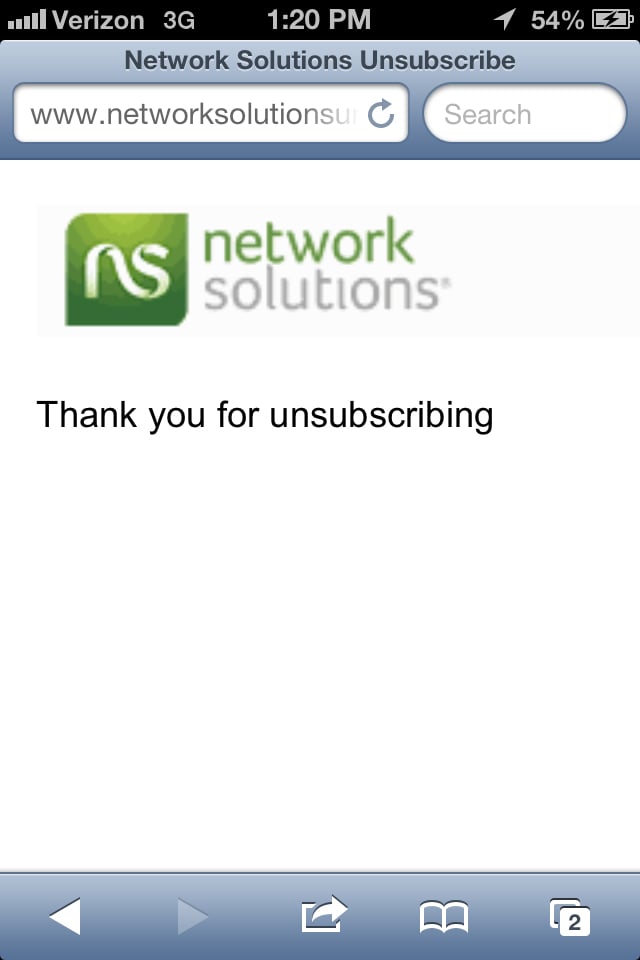 The only enjoyable thing that this company provides is having my own name registered with a domain, which gives me agency to host it where I want to. Perhaps the best decision I have made was purchasing a five-year domain plan in order not to hear from these people again until 2017. But I don't bet on it.
Useful: 6  Funny: 2  Cool: 0
12/14/2012