Strength Through Song is a hardcore documentary produced in 2006 of straight edge and vegan band members. They are members of hardcore and metal bands Grey Skull and Owen Hart touring the San Francisco Bay Area in the city of Oakland.

---
Strength Through Song is also available from Vimeo here.

---
Touring Hardcore and Metal Bands…
Strength Through Song is a three minute hardcore documentary. It showcases two touring anarcho-punk and hardcore bands, Greyskull and Owen Hart. The two bands, at the time when this was photographed and recorded in late 2005, were composed of vegan and straight edge anarcho-punks from Washington.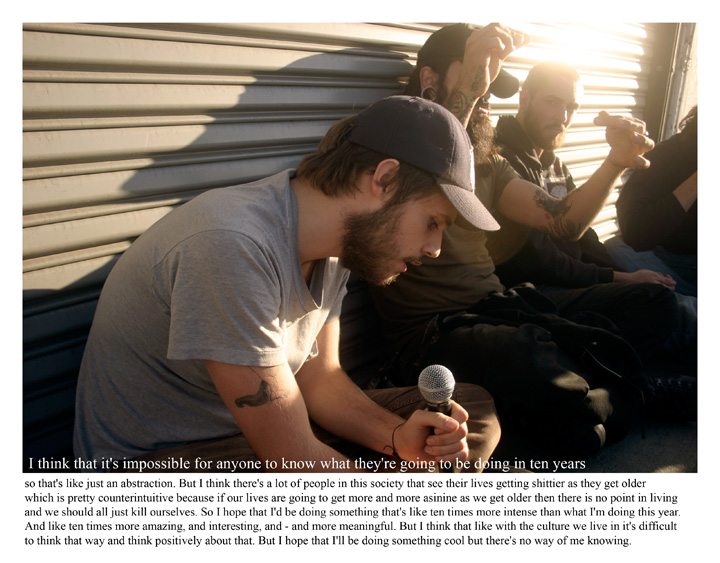 The bands, which toured an Oakland home that hosted clusters of political bands from around the country on a makeshift stage inside a murky basement. Greyskull and Owen Hart are two touring metallic hardcore bands composed primarily of younger generation musicians who are spreading their personal yet powerful lyrics.
The radical lyrics from both bands are confrontational. The bands discuss animal rights, class, racism and sexuality but stimulate these general topics in punk by tying in their own personal experiences and struggles.
Back Story…
I graduated with a Journalism degree in 2006. I found my interest in collage by writing news articles. There is a process of collaging quotes and information to make an article. Since I did a major that had a relatively oppressive view on writing, I decided to pursue digital media. I worked on photo-documentaries with audio clips and photography to complement the writing instead.
I created multimedia documentaries with a large boxy Marantz digital audio recorder in 2005. It was considered state of the art at the time. I also used a Canon Rebel SLR digital camera. This was one of the earlier works that I am particularly proud of. It won no "best of the week" awards or accolade. It showed a transitive moment and no story arc.